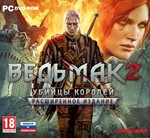 You buy the Witcher 2: The Killer of Kings extended edition for GOG.com.attentionRegion: any
Language: multilanguage
Activation system: GOG
</ Attention>

The actions of the game "The Witcher 2: Assassins of Kings" begin soon after the events of the game "The Witcher" and also take place in the world of books by Andrzej Sapkowski. The main character is still the witcher Geralt of Rivia [13]. According to Andrzej Sapkowski, he did not take part in the development of the plot of the game and did not even know about its creation.

The plot, in comparison with the first part of the game, has become more developed. It is also known that the main character will travel a lot according to the plot, and powerful magic will be involved in the game plot. Developers have provided a high level of replayability, and by the middle of the game, possible scenarios for the development of the plot can be very different from each other.

The end of the plot of the prologue ended with an attempt on King Foltest. Geralt could not prevent the attempt and missed the mysterious murderer who had "witch´s" eyes. In "The Witcher 2: Assassins of Kings" Geralt was accused of the murder of Voltest and he has to go to investigate this crime and restore his reputation.
29.04.2018 21:39:40
Вы ввели неверный цифровой ключ продукта. Проверьте, не опечатались ли вы.
Жду новый на почту huntermaxz@mail.ru
26.04.2018 17:27:31
Все работает ;)
17.03.2018 16:54:38
Всё работает!